It is a brush in which short piles with threads cut into 0.5 mm to 3 mm are planted on the base material such as shafts and sheets. The cut pile is put into an electric field and fixed (flocked) to the base material via an adhesive.
Similar to the fabric brush, this brush enables low cost, small diameter, and space saving while controlling and stabilizing the brush resistance value.
Material: nylon, polyester
Fiber thickness: 0.5d~
Fiber length: 0.5mm-3mm
Electrical characteristics: insulation,
conductivity (controllable)
Shape: roller, sheet, tube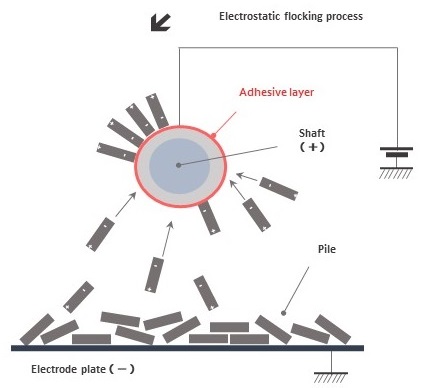 1
What is an electrostatic flocking brush?
Electrostatic flocking brush has advantages such as smaller diameter, uniform density, and lower cost. Utilizing those features
1) When you want to adopt a brush in a narrow space
2) When you want to eliminate the "spiral gap" that causes uneveness
3) When you want to reduce costs compared to conventional fabric brushes
You can use it in those situations above.
2
Features of TOEISANGYO flocking brush
Our electrostatic flocking brush not only has conductive properties, but also has excellent durability against fiber loss and stable pile density.
Due to these features, we have many achievements as parts for electrophotographic devices that require extremely high quality.